Palio dei Rioni – Albenga 17-20 July 2014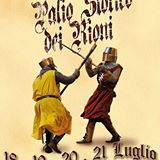 The Boards Rionali manage their own territory in the town of Albenga in accordance with the rules and directives of the organization and represent their Ward during all operational and organizational meetings. There will be also the many attractions in the theme song, dance, jugglers, knights and ladies in costume than the most alluring features and reproductions of ancient crafts, flag, hawkers, street artists. The program also includes a sweepstakes for visitors that will be linked to the outcome of the games planned for the 3 days of the Palio. Tickets will be sold in the taverns of the various Councils and Rionali ticket winners will be drawn after the closing of the games. Prizes will be drawn from the tickets of the district winner of the games.
Located between the ancient alleys will hide food and wine taverns and inns, within which you can taste the specialties typical of the medieval in style, staged by costumes and decor masterfully selected. Focus of the event and the object will be the most interesting games, the Palio, which aims to unravel the eternal rivalry between the four districts in competition and will culminate with the election of "Pulcherrima Puella" or the most beautiful girl of the four districts.